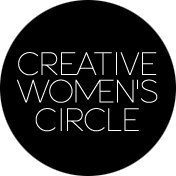 Well, if you follow much of what I do, you will probably already know that I am a big fan of the Melbourne based "Creative Women's Circle". I became a member when I first moved to Victoria (three and a half years ago) and as a result I have made some great new friends and been involved in some fun projects and opportunities.
Recently, Tess McCabe (who runs CWC) put out a call for people to start up branches of the CWC, so as to further extend the network and bring the benefits of the Creative Women's Circle to individual communities! I put my hand up straight away and am happy to say that I am looking forward to bringing some great events to my local area.
All good things take time though and I expect it will take until the end of the year (2014), for me to have things operational. I figured this is a good thing as it will give me time to spread the word and get some of you who live nearby on board!
Yes, I can feel your excitement and I know your saying to yourself, how do I get involved?? Firstly, I'd say go over and subscribe to the Creative Women's Circle website, so you will hear whats new from that side, (and see how awesome it is). If you feel strongly enough, then do become a member. Next, you can subscribe to my blog (here on the right), and I will make sure you don't miss out when CWC comes to town, (or follow me on Facebook, instagram or Twitter ).
Right now I am working my hardest to get us a quality speaker, one who you wouldn't normally be able to hear in our humble wee town!
Got questions? Ask below in comments, or shoot me an email at jasminemansbridge.com.au
I am enjoying school holidays and no routine… what are you up to?
Jasmine x