__________________________________________________________________________________________________
__________________________________________________________________________________________________
Sunday 4.
Hi everyone,
This Sunday we are looking at an Australian icon, Reg Mombassa.
Reg Mombassa and his love for the landscape:
Amy Chaplin, 03/10/2020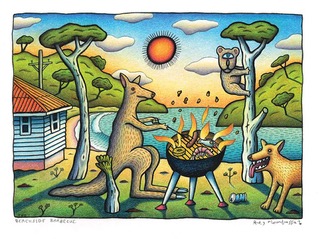 Reg Mombassa, Beachside barbecue, charcoal and coloured pencil on paper, 2015.
Chris O'Doherty, famously known by his pseudonym Reg Mombassa or as the Mambo artist is a New Zealand born, Australian artist.
Mombassa was a prolific artist from a teenager, constantly drawing his surroundings, often through the view of a window. Mombassa is also a poet and skilled musician, he founded the famous Aussie pop-rock band, Mental As Anything and is still performing in his band Dog trumpet, a soft-rock band with his brother Peter O'Doherty.
Commonly known for his more graphic style of art used in his Mambo designs. Mambo which was a popular street and surfwear brand in the 90s and 2000s. This graphic art was used as an avenue for Reg to comment on religious, political and pop culture themes through his art as well as depict the Australian lifestyle. The art style used was very figurative with sketched qualities and vivid colours. What most people are unaware of is that Mombassa was also very committed to paintings and has painted and exhibited many landscapes throughout his career.
Mombassa started painting landscapes early on in his teenage years while he was still living in Auckland and continued once he immigrated with his family to Sydney. His landscapes vary from rural to suburban as well as from New Zealand to Australian. His work often draws inspiration from his childhood landscape of the native fauna and flora and even childhood neighbourhoods in New Zealand. Most of his art started from sketches done while traveling, observing out the window on family road trips and continued to bus trips with his rock band. One could view his landscapes as an interpretation of his own life history, he focused on bringing out the extra-ordinary out of the everyday and covered everything in his life.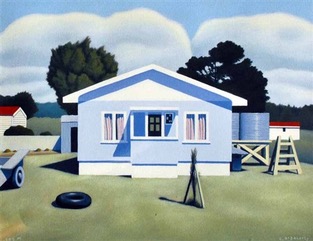 Reg Mombassa, Organism, House paint and oil on board, 1991.
"The picture is called organism because a house and the people living in it have a distinct existence as a separate organism.  The spaces in and around a house become charged with the movements and psychological activities of the people living in them."
The Mambo designs developed their own very unique and recognizable style overtime and the designs are still iconic to Australians today. Mombassa used more of a variety of styles with his landscapes, although all this very recognizable to himself, he painted in styles ranging all the way from traditional oil painted landscapes to semi-surreal and most outlandish and comically cartoonish depictions of the future of the world once nature had reclaimed earth.
The Landscapes often have focal subject matter, Mombassa liked many different things, urban elements; roads, vehicles, power poles and stations and factories as well as purely natural and rural elements; rolling hills, gum trees and trunks and rural stations and scenes. His Landscapes focused on his way of life as an Antipodean; creating a creature that appeared in many of his paintings, the kangaroo, a mixture of a kiwi and a kangaroo. He started drawing suburbia as that was what he could see from his window, all his homes were on the outskirts of cities, in the suburban surroundings. His father was a builder and mother designer, so they moved into the new homes his father was building and moved every two or three years.
Many landscapes done of his own homes were done as metaphysical portraits of his father. As his father had built and painted the homes he now sat, admired and painted. Mombassa was also fascinated by old black and white photographs as a child and aimed to paint paintings that had the same representational qualities of old photographs, or ones taken by him on carboard cameras on road trips or even cut outs from real estate advertisements.
Reg Mombassa, Bush Suburbs, charcoal and coloured pencil on paper, 2002.
Mombassa is a man who never took many things too seriously, the pop rock band he founded, Mental As Anything was started as a joke with art school friends on the premiss to get invited and play at house parties. They continued playing together for the enjoyment until they unintentionally became famous across Australia and could start touring internationally. Their single "Live It Up" peaked at No. 3 in the UK and topped the charts in Europe and North America after it featured in the 1986 Australian film Crocodile Dundee. Early on in the band formations they all decided to go by pseudonyms; starting with a common Aussie first name and ending with an exotic second name. Mombassa originally went as "Brett Orlando" and eventually the "Reg Mombassa" stuck. As Mombassa's artistic demand increased he had to make the hard decision to stop touring with the band after 25 years of performing. He continued designing graphics and even holding exhibitions for his Mambo designs however his passion to paint and draw landscapes dominated.
"I'm frightened of humans, but I like landscapes."
He is a man who avoided labelling and 'fame' most his life, he has never fed into the fact that he is one of Australia's most recognisable artist, he has simply continued creating and painting for the joy and discovery. Reg is now 69 his most recent sold out show was in 2014, he is now married with children and lives a very different life to his one in New Zealand. Reg now resides in the inner most suburbs of Sydney, in a home very different to the ones he draws.
SUNDAY 3
Hi everyone,
This Sunday I want to introduce you to Natalie Rosin.
Natalie is a graduate architect and ceramicist from Sydney, Australia. Jasmine and I are both in-love with the work Natalie creates and so were thrilled when she agreed to an interview highlighting her artistic practice and connection to architecture. Natalie creates the most sophisticated and delicate of architectural thoughts though ceramic sculptures and vessels. 
"To merge ceramics with architectural thought introduces a place open to experimentation, unexplored forms and intuitive structures, forming new expectations from the spaces we inhabit and the environments built around us." – Natalie Rosin, ceramicist 
Natalie Rosin, Photographed by Flore Vallery-Radot.
I love the way in which you have combined your two loves; architecture and ceramics. What came first? Your love for clay or buildings?
I first studied architecture at university. While completing my Masters degree I enrolled in a ceramics elective and this is when I was first introduced to clay. At the time I wasn't sure how to combine the two disciplines, but now I am exploring these moments of connection. 
What characteristic do you love most about clay? 
I love how this piece of the earth, presenting itself in a simple ball or slab shape can be transformed into infinite three dimensional configurations or forms. 
Clay is often used for its ability to create organic shapes; however, it appears most of the sculptures you create have rigid qualities. How do you use the qualities of clay to create your desired outcome?
To form my more orthogonal, strictly planar structures involves really understanding the properties of clay and how it dries. I use a slab roller, which allows a chunk of clay to be evenly rolled out as a flat surface. Once I do this, I do not immediately work with the clay to create my forms, instead I then wait many hours, sometimes 12 hours, before working with the material. This achieves the desired moisture content for the clay to be rigid but not too dry and requires a lot of patience. 
Do you have a very set idea of how you want every piece to end up or do you allow the process and attributes of clay to influence the design and outcome?
My architecture background aims to be precise to the millimeter, while my experience with clay is well aware that this is a lost cause. I like to embrace the unpredictable properties of clay in my sculptural works, while at the same time try to achieve at least a small sense of control over the final outcome by understanding how clay can develop and move during the different firing and drying stages of the process. 
Physically modelling the sculptures, does this build a strong connection with each piece? Is this connection something you avoid or honour due to clay's temperamental manners?
There is an emotional balance I try and maintai​n. While of course there is love in each piece I make, having devoted my time, energy, my thoughts into each form, there is also a detachment. Often pieces formed with clay can crack and break during the different stages of making and so I have learned that if you're reminded of this every step of the journey the disappointment of a piece not working out is less harsh. Lets call it ceramic stoicism. 
'MCM' sculptures by Natalie Rosin at Saint Cloche Gallery. Photograph by Jacqui Turk. 2019
I think your MCM sculpture may be my favourite! What was the thought and design process behind this selection of pieces?
The pieces I created for the 'MCM' exhibition at Saint Cloche were inspired by Mid Century Modern architectural gems located in Palm Springs in California USA. I selected key buildings that really spoke to me, and sculpted a collection of works inspired by this period of architectural design. 
Do you believe that your architecture degree was essential for your artistic practice today? 
I do believe my architecture degree has informed my ceramic practice. I was introduced to ceramics via my architecture studies and have used certain skills studied in architecture school to guide my method of sculpting clay.