In 2015 I wrote a blog series on female artists I found inspiring and interesting, for the Creative Women's Circle. I will be sharing these posts here on my site over the next few weeks.
I am writing for CWC again this year in 2016. You can find out more about this wonderful organisation for creative women here.
First up is the very full life of Hilla Becher. Original article is here.
Hills passed away not long away I wrote about her, age 81.
Vale Hilla Becher, (pictured below with her husband and collaborator Bernd)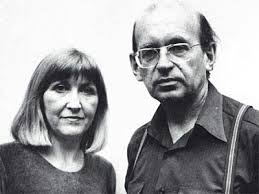 Relationships fascinate me. The fact that two people choose each other and then make a life together is pretty amazing. So, when I was asked to write a series of posts about significant creative women from history for CWC, I thought it might be interesting to look at one of the great creative partnerships/relationships in art history… with the idea that there might be something to be learned from them!
In this first blog post I have chosen to look at the relationship of German conceptual artists, Hilla and Bernd Becher. Hilla and Bernd met when they began working together in Dusseldorf in 1957 and they married several years later. Cameras in tow, they adventured about the countryside, united by a shared fascination with the decaying forms of early industrialisation. Over time their singular aim became to preserve what they felt was a disappearing part of modern history. Hilla and Bernd together, were compelled to capture these utilitarian monuments via their preferred medium of photography.
I must admit that it was the photography of Hilla and Bernd and their subject matter that first drew my attention to them. The stark objective way they captured their audience of man made structures, which included water towers, mills and furnaces very much appealed to my aesthetic. The exhibited photographs of these structures were often set into "typologies" or grids, so as to allow for viewers to make comparisons about similarities and differences between the different structures and for them to be able to see the detail and careful workmanship that had gone into the making of many of them.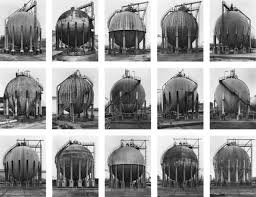 The Becher's first began using their documentary style of photography in Germany's Rhur valley, which was close to home and over the years they then travelled to many other declining industrial centres, in Britain, France, Belgium and the United States.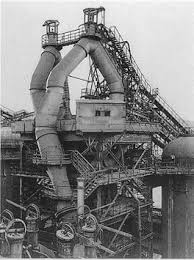 There is not a lot written about Hilla and Bernd's relationship outside of the boundaries of their art making. If they lived and worked today, they may have a blog, or an instagram account (!) and so there would be, perhaps, more direct insight into what made them tick as a couple.
So, for the purposes of this post I am relying on mere presumption about the Becher's personal relationship. They spent decades working together and appear to have consistently shared a singular vision and artistic focus. This is an impressive achievement for one person alone, even more so for a couple. I wonder if the boundaries they imposed on their work contributed to their success in both art and love? If this sustained common goal gave their relationship both stability and longevity?
Hilla and Bernd are also rare in the fact that they appear to be true equals in their art making process. This is apparent when you listen to the talk they recorded for Arch types. Given the times in which they worked, Hilla could easily have only been Bernd's artistic assistant, and may have accepted that role happily. But, by all accounts theirs was a partnership, a collaboration. The two of them working methodically to create an impressive body of artwork. They obviously valued each others skills and each felt they needed the other to complete the task at hand. They don't appear to have had solo projects and if they did, they were not the main focus for either of them. This sense of equality surely contributed to their success.
The Bechers felt passionate about the preserving of history and viewed their work as important. I wonder if this dedication enabled them to put aside any differences that may have arisen between them. Was the cause behind their photography greater to them than any kind of competitive artistic ego? In the same way couples will often put aside differences for the sake of their children. I imagine that maybe Hilla and Bernd did this for their works of photography.
Bernd taught photography at the Kunstakademie Düsseldorf for 20 years, until 1996. It was due to internal policy, that Hilla was unable to be employed alongside her husband, although she is said to have been instrumental to the running of the photography department. Hilla obviously accepted this and there is nothing I could find written to suggest she was unsatisfied with the arrangement. Hilla's position highlights the challenge presented to female artists in the past (and lingering into the present). The formidable Becher partnership endured until Bernd's death in 2007 and since her husband's passing, Hilla has continued to exhibit their work, using the couple's existing photographs.
When looking at the Becher relationship I felt there were many questions left unanswered. I wonder if the personal details of their relationship were off limits and if it was something they agreed not to talk about. If this is the case I understand. I am comfortable sharing many aspects of my own life, but I respect my husband's need for privacy and do not talk much about "us". Hilla and Bernd were certainly are an intriguing couple who produced a flawless body of work. For further reading, I'd recommend this book about the Bechers titled Life and Work by Susanne Lange.
I'm very interested to hear from those of you who are in personal relationships with other artists. Have you ever collaborated on a project? How did that go? What are the ups and downs of this? I would love to have a dialogue about this!