I took my 17 year old daughter to Melbourne this weekend, to spend some one on one time with her before she heads off to Uni in a few weeks. Yep, another child done with school.
We saw Nick Cave play at the Sidney Myer Music Bowl and David Hockney's incredible exhibition at the NGV. I admire both these two artists, who have managed to create original work in a cookie cutter world. I could not help but cry when he sang "Into my arms"… (below), it is such a beautiful song.
The dynamics of my family are shifting fast. I still face the day to day struggle to divide my time between my home life and my creative work, (often the lines are awful blurry). But things are slightly less pressured going into 2017. My oldest is about to start her third year of University and Jack and Esther are now both in Primary School. My baby is two. Time is going by fast.
While I was in Melbourne I caught up with a friend, the writer of "The Divided Heart", Rachel Power. We discussed our lives and our creative work and we talked about my book. Speaking to her forced me to articulate out loud exactly why I wrote the book.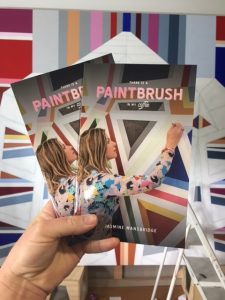 Coming back home just now, I realised I haven't written it down for you here.
So here it is.
I wrote the dot points for "There is a Paintbrush in my Coffee" almost three years ago. It was before I was pregnant with Oscar. I thought about all the things I talk so often about with other creative parents. I thought about all the stories of other artists I had read and listened to.
I thought about my own questions about what is important in a creative life, when you are also a parent and want your children to also have their best life.
I came up with the 22 points that formed the short chapters of the book.
Here they are as they appear in the book;
Things I wish I knew years ago
Start where you are
Divide your time
Help your children be creative too
As important as a day job
Do one thing at a time
Do housework furiously
Creating is supposed to be fun
Don't be too precious about your work
Be present
Joy killers
Family life is unpredictable
Outsource some of yourself
Have a permanent space in which to work
Creativity is the new sleep
Find some like minded people
Use your time wisely
The big picture
Accept your limitations
Keep the faith
Always do your best work
It took some time to write, then format, then edit the book. I used a self publishing app to do it and did most of the initial writing on my phone, emailing notes to myself. I also had some help from friends with experience.
I wanted to write a book that broke down how I work myself and all I have learnt in (now 20), years of parenting. I wanted to write a book I had looked for as a young mother and artist and could not find, and it couldn't wait. I felt I needed to write it while I am still living it.
It is such a raw struggle when you are responsible for the lives of your children (whom you love so deeply), but feel a burning need to also live your own best life. I am still in that space. I still feel pained when I stop painting to cook dinner or hang a load of washing. But, years of doing so have taught me to move quickly through negative feelings and be whole hearted in whatever task is at hand.
I find my art is a wonderful balance to the intensity of life in general. Being creative gives me time to reflect and to think properly about things. It is what I think is the equivalent of meditation for other people.
So, there you go, thank you to everyone who has read my book and encouraged me in it's worth. While I have always written here and there, and in journals, it has never been my number one creative outlet. I wrote this book simply to share my story and to make use of my own experience. I am grateful it is being so well received.
I am also grateful to my husband, who is a wonderful parent and who being so opposite to me, makes up for many things I am not. He has always respected my need to work creatively and supports me practically as much as he can. This doesn't always happen without a bit of a struggle between us though. What works keeps changing, ha, ha. We are a work in progress.
[For example;
He says; Hey honey what are you writing?
Me; a book (wincing).
He says, aren't you too busy painting to write a book?.
Me; don't worry about it, just trust me. (silence).
End of conversation].
One of my favourite sayings, and one I say to my children all the time is this;
"anything worth doing is hard work"..
So, don't be afraid of the work. Good things come out of it.
Have a great week guys..
I would love to hear from you…
Jasmine X
*You can buy my book here. If you would like to stock it or have me talk get in touch!
*If you would like to know more about my exhibition at Koskela in Sydney in March, send an email to info@koskela.com.au
*If you would like to hear me talk about being a creative parent below;