Well I hope you all had a wonderful break over Easter. I have been extra busy lately and so it was really good to spend some time road tripping around with the little family (the teens did their own thing). We stayed in different places and explored new things to do in nearby South Australia and also here in Western Victoria.
The balance between my "work" life and the rest of my life seems to be a finer and finer line to walk, as both my creative commitments and my family grow. It really requires me to be constantly checking in and re-adjusting of my priorities. It was nice to have some downtime to do this.
I feel very blessed and grateful to have all that I do. I have worked really hard for a long time and it is nice to be reaping some of the rewards of that hard work. Below is a pic of all of us (and the photo bombing dogs) on the Monday after Easter Sunday. All of us at home (plus boyfriends), a really nice thing now that both the older girls are at University and live away during the term.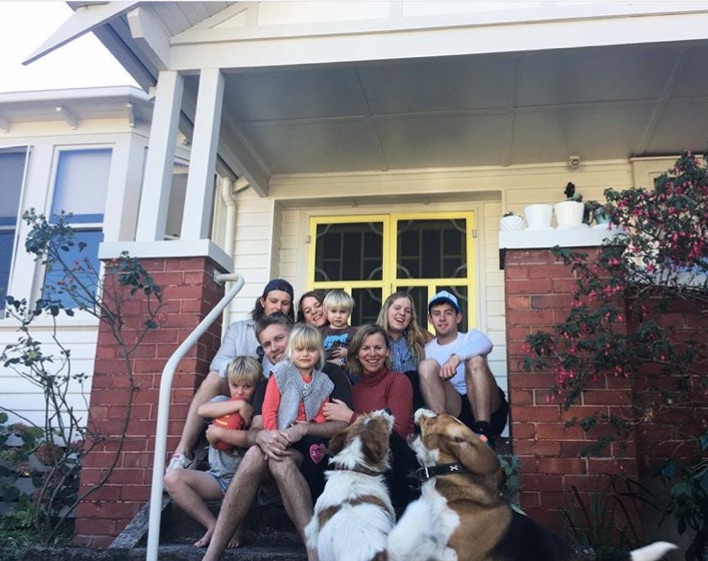 Well everyone is now back at work and school and I am back to making plans for my next Exhibition and more murals, amongst other things!
I am also doing a FREE SHIPPING promo on my book from now until Mother's Day, the 14th of May. So, if you would like a book but haven't got one yet, now is a great time to take advantage of the $20 flat price. Just visit the SHOP page here on my website.
My book has twenty two short chapters with my advice for creative parents, it also has artwork and quotes from some of my favourite people. Oscar and I had a bit of fun taking this pic this morning! Pretty savvy advertising don't you think! Ha ha….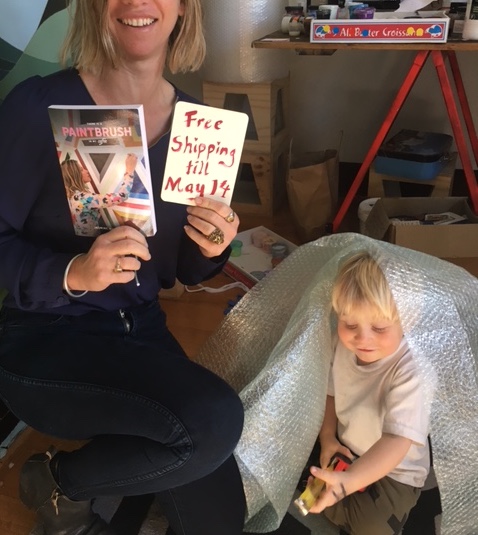 Anyhow, I love hearing your positive feedback and so if you have my book and have enjoyed it you can leave a review in the store.. just follow the link HERE to do so.
Have a good one guys..
Jasmine X
Emma Ferrier made a clip in which I talk about my art and my family. You can watch this below;