Hi Guys,
I have been thinking of how I can give more value to you, the ones who have followed me the longest and who have let me into your inboxes. One way I guess is for me to let you know here first, when new paintings are available. I have three galleries that I am working with officially now, including my signing to FENTON & FENTON this week, and as my audience widens I want to acknowledge how important all the encouragement I have received from you here, on my own website has been along the way.
So, here goes,
I am about to go to Hong Kong again for the Art Fair week and although we tried, we did not get a booth at Art Central this year, as it is highly, highly competitive (we will be trying again next year!). I am showing paintings in a group show however, in a large corporate space set aside for the purpose of showing unrepresented artists in Hong Kong. This has been facilitated by Ingrid from Style Brief Hong Kong and so if you are interested in purchasing either of these two paintings below, you can email her directly at; ingridkeneally@gmail.com (the shipping to and from Australia is very affordable).
Painting 1.
"PORTALS AND STAIRS / SNAKES AND LADDERS" 2018.
105 X 105 cm. Acrylic on board, framed in Victorian Ash (a timber local to the artist).
"This painting uses the architectural features of stairs and portals to create a visual narrative for the up and down nature of day to day life. My eight year old son said it reminded him of the board game snakes and ladders which made me smile, as that is actually a simplified, but accurate explanation of the meaning behind the painting. If you are not familiar with the board game, it is one where players take turns to roll a dice and move their pieces around a course. If you come to a ladder you go up and if you come to a snake you slide down. A metaphor for the unpredictable nature of life". Jasmine.
Price $17,500 HKD $2900 AUD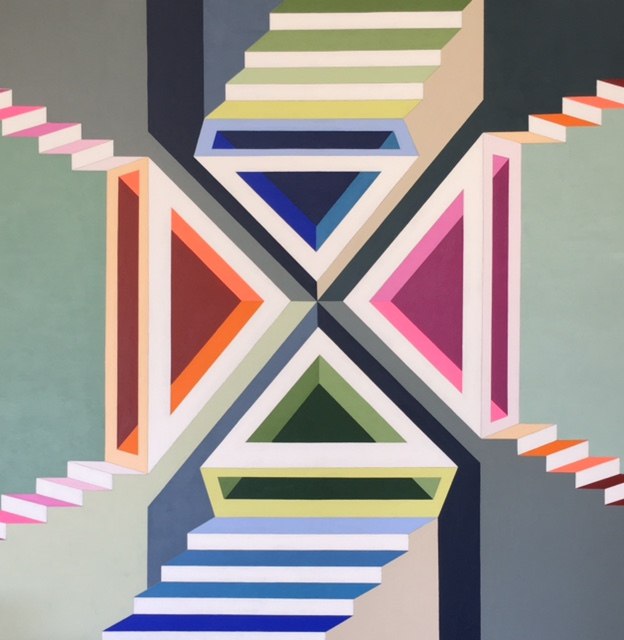 Painting 2.
"RUN TO PARADISE" 2018.
105 X 105 cm. Acrylic on board, framed in Victorian Ash (a timber local to the artist).
"This structure with its self supporting portals represents a place of safety and solace from the outside world. It is about balance and reflection and having an internal place of "paradise" and calm.
The title of the painting, is also the title of one of my favourite songs "Run to Paradise" by an Australian rock band The Choirboys. You can listen to the song HERE." Jasmine
Price $17,500 HKD $2900 AUD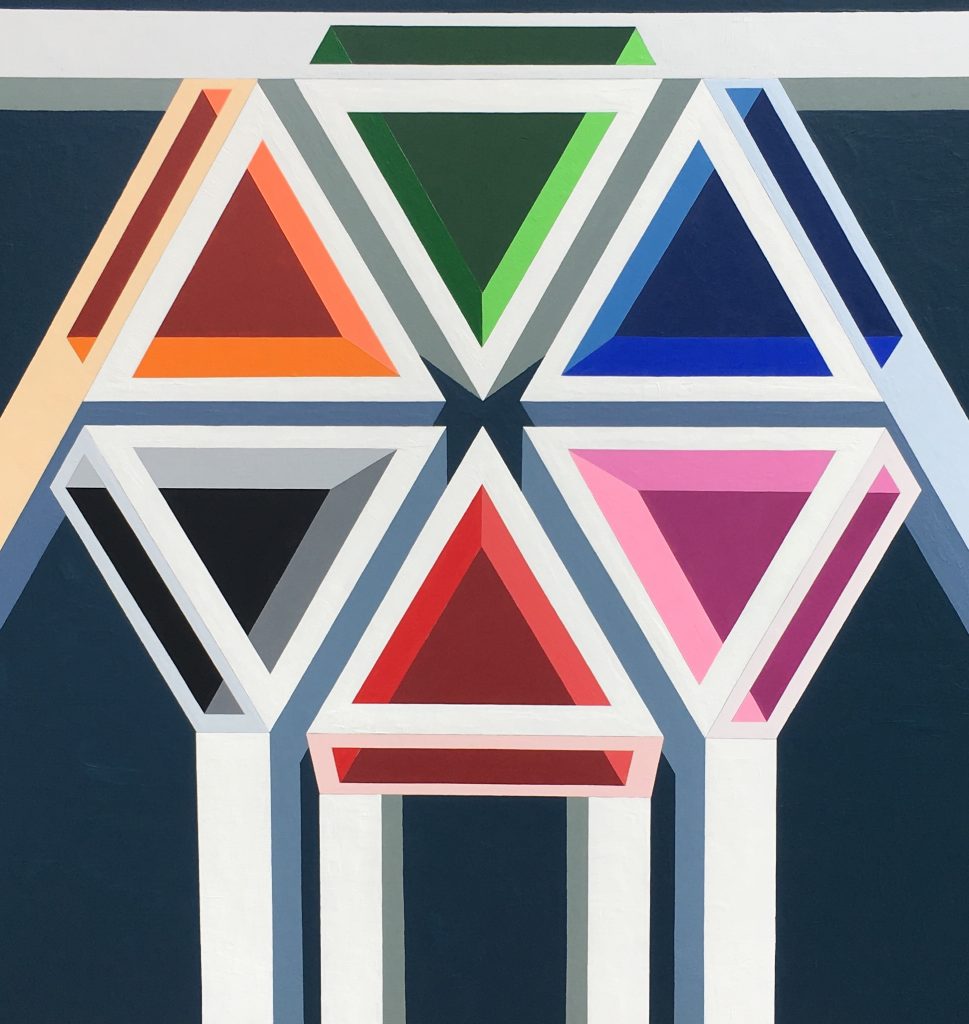 If you like my work and would like to support me in some way, because the reality is that as an artist I am a micro, micro business, the easiest way for you to do this is by sharing my posts, inviting people to subscribe to my website or joining me on instagram and facebook.
I do try and keep my content uplifting and encouraging, but please let me know if there is anything you would like to see more of. And if you don't like my posts I am always happy to unsubscribe you, just flick me an email, because one thing I have learned over the years is that you will never be everyones "cup of tea" for example I love Earl Grey, but so many people hate it ha ha..
Happy Friday guys, enjoy your long weekend and if you are free next Saturday the 17th of March, I would love to have you join Rachel Power and myself as we chat "Creativity and Chaos" at Blarney Books- please register/check this out HERE.
With love.
Jasmine X