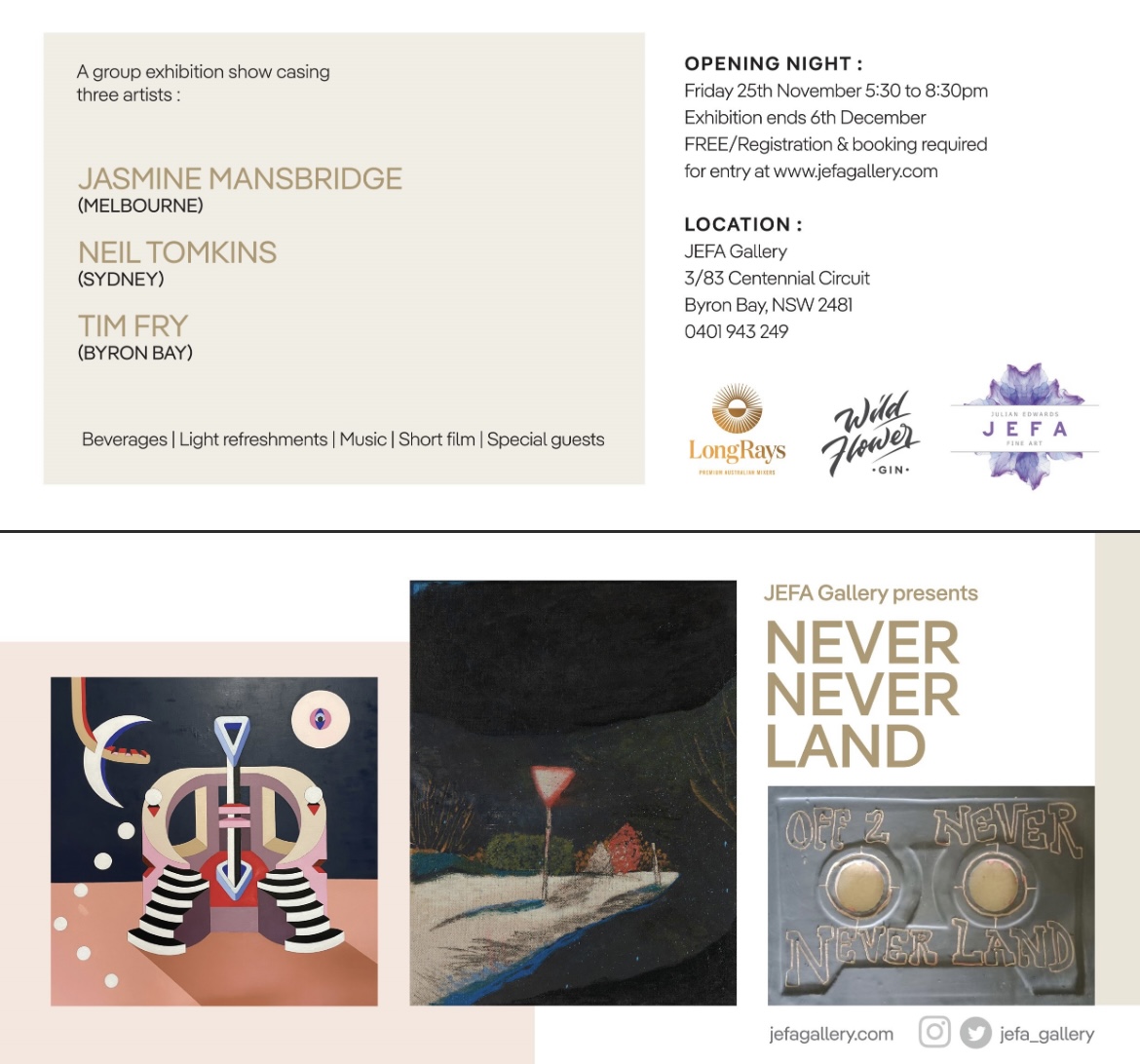 I am really looking forward to sharing this body of work at the the JULIAN EDWARDS FINE ART GALLERY (JEFA GALLERY) in Byron Bay. The exhibition opens on the 25th of November and runs until the 6th of December.
Also showing in the NEVER NEVER LAND exhibition is Neil Tomkins and Tim Fry, the interplay between our diverse styles has been really great to see unfold. There is also a floor talk planned for the 26th, keep an eye on my instagram for the details.
Here are some of my thoughts, writings and a poem which underpin the visuals that have culminated in the paintings for NEVER NEVER LAND. This year has been a big one of losses, highs, lows and big personal changes. So these paintings hold many thoughts, feelings and emotions which reflect this.
The exhibition title Never Never Land conjures up feelings of escapism, the chasing of shadows, dreams half remembered and nostalgic Utopian worlds. It hints at the Idealistic notions reminiscent of childhood, the places you go to and it pains you to return from. Memories there are wrapped up in scent and touch. The things we don't have enough time for in the racing, demanding pace of adult life.
Never Never Land is part Peter Pan, part remote Australia, part Wishing Tree, part family home, part Salvador Dali. 
Heavy themes of death, metaphorical and physical can be dealt with here, of changing environments and disappearing places and an altering planet. Love can be lost and found here. 
In Never Never Land one can safely ask all the hard questions. One can examine their past, present and future histories. Collective tales of humanity can be told and wondered at. Tears can fall and there be no shame at all. 
There is time in the imagination to create new places to visit. New ways of being and living. There are portals and landscapes and paths to walk down. There are familiar melodies and the heart is but a warm drum to keep time too. 
All you need is already inside you. In this place deep within. In Never Never Land
__________________________________________________
And a poem;
__________________________________________________
Notes from Neverland 
Lines dragged down
From dreams
Never kicking
Or screaming
Tugged down 
By the tail
Brought to light
Brought to life
From the underbelly 
Of the whale
From the wings 
Of a bird
Here come the 
Words
 Here come the 
Words 
Little pictures form
Little structures beam
Little lands appear 
To give worlds 
To the words 
From Neverland
To give homes
To new stories
And to this 
Ethereal Landscape 
Of Ideas
That is  
Never
Never 
Land.
Jasmine Mansbridge 2022.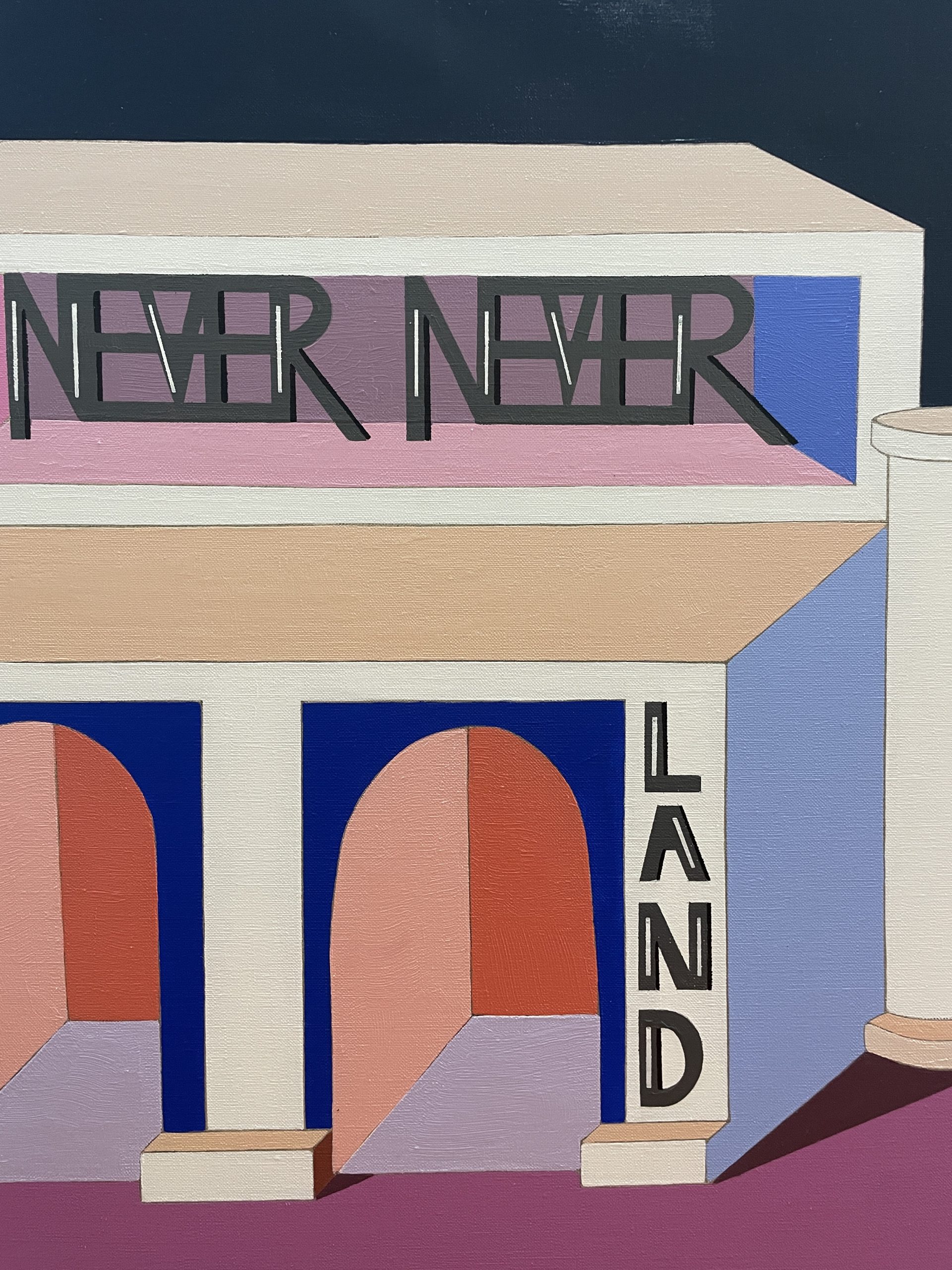 So much love and time goes into all I do, making and sharing stories really being central to my practice. My aim is that my art makes one feel more connected and less alone in the world, that the pieces are a reminder of our shared humanity.
The photos above and in the header were taken by a good friend Kate Berry in my Geelong studio. You can see more of Kate's work here.
Thanks for being here – if you would like to keep up with the day to day of my creative life you can follow me on instagram .
Jasmine X
P.S If you would like to check out my TUNISIA prints and support this project, jump over here.