I love painting, if I ever get sick of it, it is only for the shortest bit of time. I can't stop. If I didn't love it there would have been no way I could have put in the painting time I have, to be ready for Art Expo New York in roughly just twelve months. (20 paintings). That is as well as being mum to four kids and everything that that entails.
So I have been painting non stop, at nap times, on weekends, in the evenings until late at night, I have loved it, but, I need a break. This painting "Don't look back" has been the last I have done for my exhibition.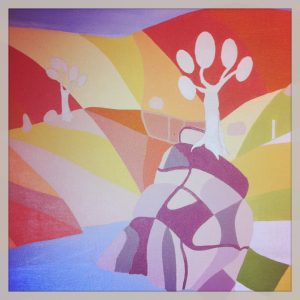 So while images like this;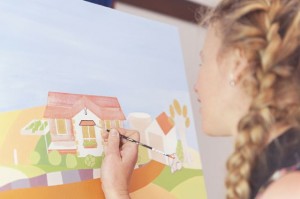 might look idyllic, the reality is much more like this;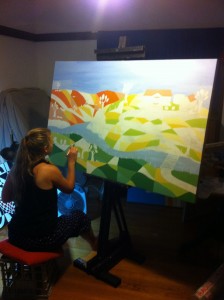 So now that my last painting has been finished there has been so many other things to take care of. So many things I never thought of when I decided to exhibit in New York. Things like tax and lighting plans and the list goes on. So today, for the first time since I can remember, I have been craving the life of the idle. Just to have an empty head and no "to do" list. To have endless hours doing those mindless enjoyable things like gardening, movie watching, I don't know, normal stuff.
Instead I have been doing this stuff;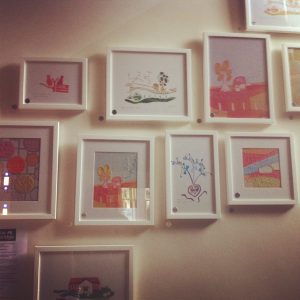 Hanging little art works for sale in my local cafe, cooking meals for the freezer, writing loads of invites, getting media stuff ready, sending thank you's……… (with helpers by my side)…………………………….Busy busy!
So I guess it is like anything in life worth doing, it comes at a cost, like anything meaningful at all.
Right now I have 14 days till I leave for New York. My to do list is long, life here is far from easy at the moment. My husband is awesome and patient as usual, I am trying to pace myself. Reminding myself how great this is all going to be and how the whole trip, exhibition etc.. is a dream come true. It really is. When I get home though… I am going to, for once, thoroughly enjoy being idle (for a little while anyway, then I will get bored I am sure)!…
Thanks guys and here is the finished last painting! A fitting time for me to remember "Don't look back!"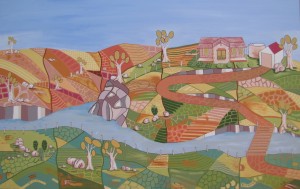 Jasmine x