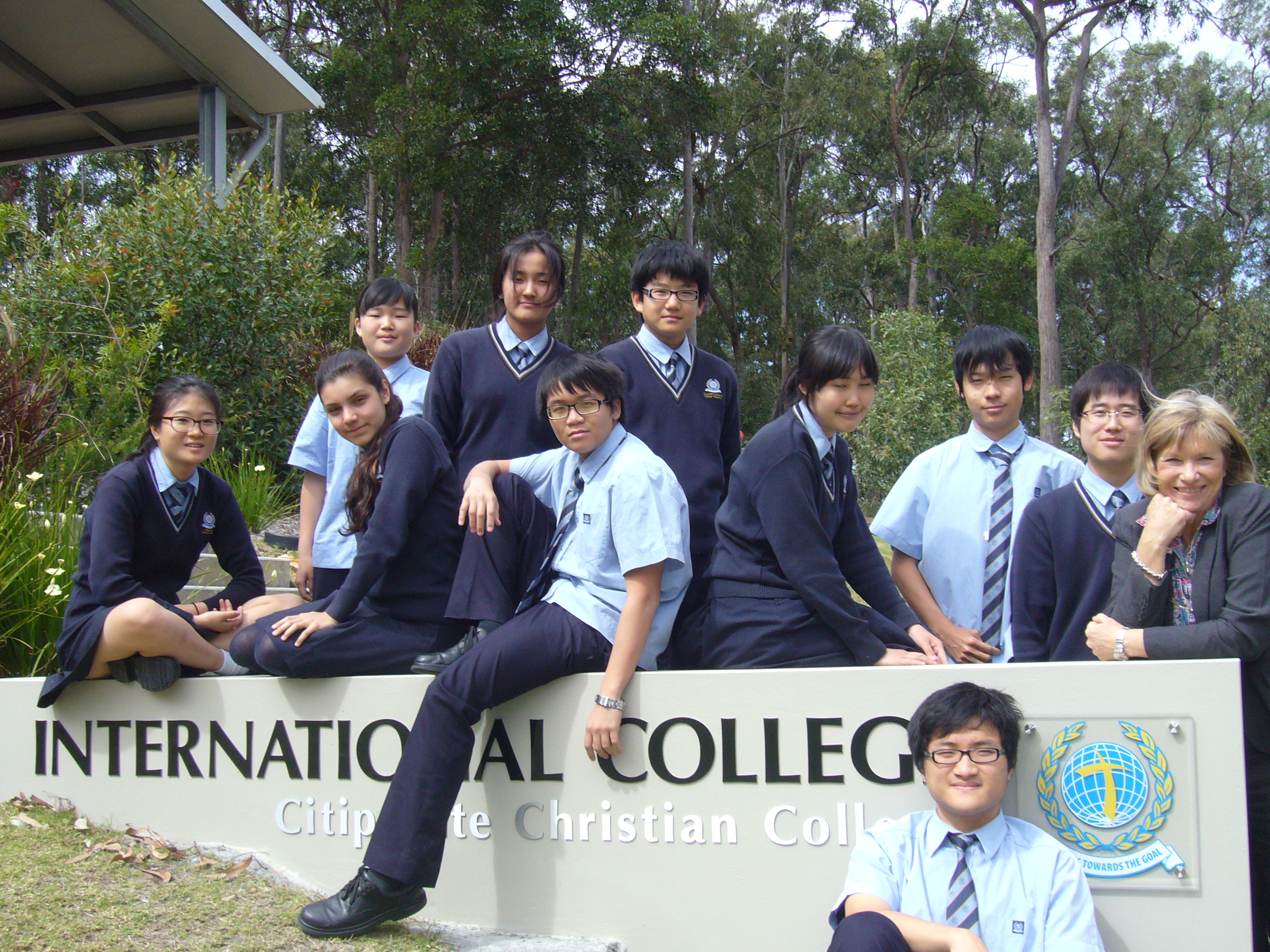 I have been collecting interviews for a while now and haven't been able to decide which one to post first. Well I decided to go with someone who personally had a big impact on my life, let me me introduce you to Lillian Myers. Mrs Myers was one of those teachers who radiated warmth and left a lasting impact on my life. She encouraged my strong points and ignored my bratty behaviour. I was touched by her honesty in this interview and and I hope that you are, as I was, encouraged by reading it.
Q 1. You were my favourite high school teacher, now that I am an adult, I am keen to know a bit more about the person behind that memorable teacher. So, please tell me are you still teaching today? If not, what are you doing?
About 10 years ago I started an English language school on campus here at COC – Citipointe Christian College International (photo attached). We have English language classes for students from a variety of countries who progress to the mainstream school when their English reaches the required level. We run a homestay program for these kids as most of them come without their parents. We also have short term study groups visiting throughout the year from various countries. The only teaching I do these days is in our Certificate IV in TESOL program (Teaching English to Speakers of Other Languages) where I enjoy passing on my teaching skills to trainee teachers who are preparing to go overseas to teach English.
Q 2. Did you always want to be a teacher? if so, why? In hindsight are you glad you chose this profession?
I never wanted to be a teacher. When I became a Christian in 1978 the Lord told me to start a Sunday School in my church which I finally did albeit very unwillingly. I taught Sunday School for three years as an act of obedience because I'd fallen in love with Jesus and wanted to be close to him, but week by week it was a real struggle to go and I hated it. I'd tell the Lord that I didn't know anything about teaching Sunday School, and I didn't like children, but week by week he just wouldn't let me off the hook. In spite of me, the Sunday School was a raging success with little miracles and kids opening their hearts to Jesus, and eventually, after quite a number of years, I started enjoying it. The Lord then started speaking to me about studying to be a school teacher and, to my shame, I resisted him for two years but eventually gave in. I just didn't know who I was in those days, but the Lord knew. I can still remember my first day teaching in the school in Townsville – I felt like a fish that had been thrown back into water. I realised that I was born to teach, that the Lord had always meant for me to be a teacher. I count it an extraordinary privilege to be permitted to speak into the lives of my students and to help them discover that they are capable of far more than they realise. I love teaching and now one of my great joys is teacher training.
Q 3. Can you tell me a little bit about you yourself, i.e. where you grew up, your favourite place and the last book you read? 
I was born in Sydney in 1952 and spent my high school years in Canberra. I dropped out of uni three times, made a big mess of everything and wandered around aimlessly until the Lord touched me and began to show me what life is for. My husband Jim and I have been together since 1975 and have three children and four grandchildren. We live on Tamborine Mountain near the Gold Coast and I guess the mountain is one of my favourite places. I also love the beach and Belgrade and I fell in love with Budapest last year. The last book I read was the Bible this morning, and I love mysteries and fantasy. The Lord of the Rings is one of my favourite books and films. My favourite poets are George Herbert, John Shaw Neilsen and Bob Dylan. My favourite colour is white, my favourite number is 18, my favourite activity is travelling to places I've never been before (next year St Petersburg).
Q 4. Can you recall any specific significant moments in your life that have impacted on you as a person?
Meeting Jesus changed my life forever. The first time he touched me I felt as though I'd been run over by a bus. I sobbed for hours and thought I was having a nervous breakdown because I couldn't stop but I didn't know why I was crying. Three days later I felt an extraordinary peace that was so different from my normal state that it shocked me. When my Christian neighbour explained to me that this was God I was hooked right there. I'm not a religious person but I guess the very best thing about my life is this love affair with Jesus. Other significant moments that changed me forever were giving birth, travelling around New Zealand in 1971, meeting my family in Serbia and reading Paradise Lost the second time.
Q 5. You have a family, did you work while your children were small? I am always keen to ask other women how they maintain a successful work/family balance. Any tips?
I went back to uni when my youngest son started preschool. I'd had 10 glorious years at home with my three boys prior to this, just focusing on being a mother. They were golden, leisurely years on Magnetic Island. I've studied and taught ever since and I can tell you that without the help and support of my beautiful husband would not have been able to achieve anything. The key to a successful work/family balance is to have a great husband who believes in you and who is committed to helping you do whatever you want to do. Jim took care of the boys and me while I chewed my way through undergraduate and postgraduate study and worked full time. He's the key to my success!
Q 6. Finally, since deciding to interview you, I having been discussing with other people the teachers who have been important in their life, it seems most people have had one or two. So was there a teacher who inspired you, or who stands out in your own memory?
Mrs Taylor was my teacher in Years 2 and 3. She was an inspirational teacher but a hard task master. She wouldn't let me get away with sloppy work or a half hearted effort because she knew I could do better. She was tough on me but I loved her and worked hard for her. I learned to believe in myself because Mrs Taylor believed in me.
OCTOBER 2011