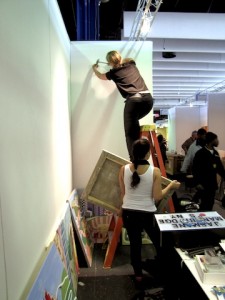 Okay, so I am a little behind on the blog posts, you will have to forgive me! New York was to good to waste time holed up in my motel room on my computer. But, here at last are some pictures of my friends and myself, having a bit of fun setting up my "booth".
"move in" was an exciting day, the paintings had been delivered that morning, much to my relief after being lost "in transit" for 32 hours, and (image below) I was also allocated a second wall, located right next to the entrance of Art Expo. This sent a lot of people our way over the next couple of days.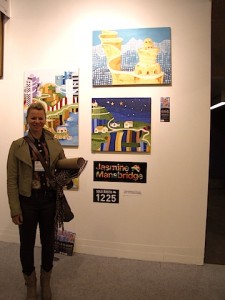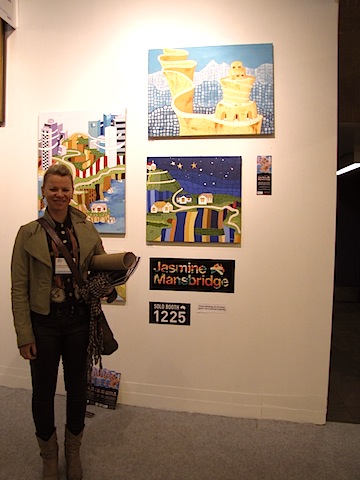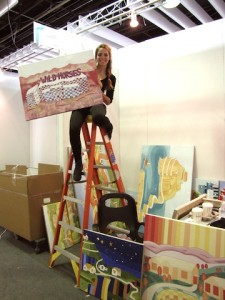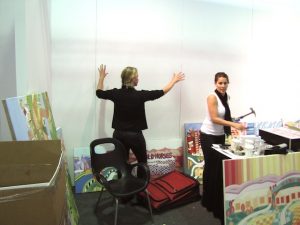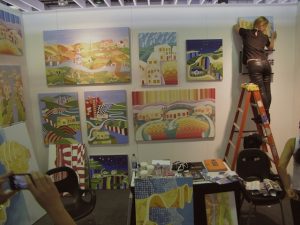 So, it took a couple of hours for us, using the finest tools available, a hammer, nails, ladder and eyes, to get the booth looking happy, colourful and light. I have always said that when painting stops making me happy, I will stop doing it and that Art shouldn't always have to be serious. Hanging day was a perfect example of this. We had a lot of fun.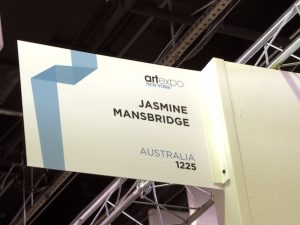 Anyway, first day out of the way, and paintings all ready to roll, I cannot tell you how relieved I was to have got this far, after so many months of planning and hard work.
The girls and I left Pier 92 on the Hudson River, where the show was being held and made our way back down to Tribeca where we were staying while we were in New York. (Did I mention NY has been freezing cold??).  We stopped to eat at what we thought was a easy, classy looking place, which turned out to be the Restaurant of Robert De Nero. With his name on the line the food and service and everything was wonderful. A great end to a great day. If only we were around longer we could have watched one of his movies in the upstairs cinema……
Cheers
Jasmine x
P.s  A big hi/g'day to all my new subscribers, please don't be shy, I love comments on my posts!