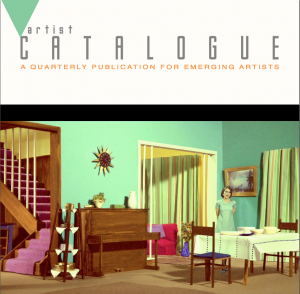 While I was in New York, I was one of twelve artists who were interviewed for The Artist Catalogue, summer edition, which is out now. It was a really thought provoking interview and I found myself having to dig deep to answer some of the questions I was asked.
Want to know more about this magazine? Here is the rundown;
The Artist Catalogue is a quarterly publication issued at the beginning of February, May, August, and November. It enables emerging artists to showcase their current body of art work and gain recognition. Each issue has its own submission and selection process. Twelve artists are selected each issue. Spring, Summer, Fall, and Winter issues are available digitally, and a complete volume of the four issues is available for print at the end of each year. Submissions are open to any artists practicing in the U.S. and are free of cost. The Artist Catalogue is a publication of The Artist Catalogue LLC.
You can take a look at the interview 
here
, and purchase the online version for $3 at;
theartistcatalogue.com (summer 2013 edition).
You can also check out the interview over on the Media page of my website